Your ideal pillowcases should be soft and comfortable for your head. After going through the different Pacific Coast® bedding accessories such as linens and pillows, it is time you start looking for pillow covers. Pillow covers are instrumental in protecting your pillows from dust, dirt, bugs and dust mites. There is a wide range of covers available in different sizes and colors, which can easily merge in with your bedroom's décor.
The Elegant Capture Top Pillow Cases
A pillow covered with a 500-thread count textile made up of 100% cotton sateen is the perfect representation of the optimum comfort and luxury you can find in a pillow. You can get these pillows on the Pacific Coast® Capture Top® Pillowcases, which will give you the same magnificent feeling you get in our bedding and linen collections.
There are numerous designs and styles available for your convenience with about six colors to choose from. The colors match up with the ones present in the Pacific Coast® Best Fit® sheets collection.
The openings present in the pillowcases ensure that you can easily tuck in your pillows for getting a more polished look for your bedding accessories.
Protectors and Covers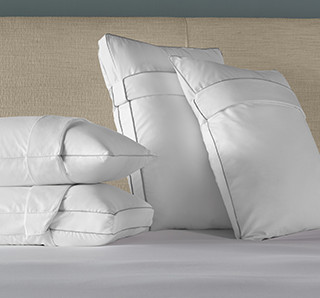 Keeping your pillow clean can be quite difficult. Body oils, fluids, and usual stains can quickly ruin the appearance of your pillows. To deal with such issues, you should consider giving our special pillow protectors a shot.
The inclusion of the 305 thread count cotton Barrier Weave® down-proof cloth mixes perfectly with your pillow giving you an added feeling of comfort- which is a symbol of all of the Pacific Coast® products. Addition of such fabric is vital for pillow protection keeping it nice and tidy for longer periods.
The Gusset Pillow Cover
Gusset pillow covers are defined by style and elegance, which makes them a worthy addition to your bedding accessories. Finding a gusset pillow cover of your preference can be quite difficult due to different material and size fit requirements for your pillows. Our special collection of gusset pillow covers is made up of 300 thread count equipped with 100% pure cotton which contributes to its coziness.
The gusset line is also made up of our unique Barrier Weave® down-proof fabric. This fabric keeps your pillow clean and tidy for a long time as compared to the other pillow covers.
The Big Cozy® Pillow Cover
Consisting of 230-thread count, made up of 100% cotton, this pillow protector does not disappoint at all. Our trademark Weave® down-proof textile adds to its reliability and quality making it a worthy addition for your bedroom. The hidden zipper is also a smart feature to keep the beautiful looks of the cover unblemished. The cover matches with the Pacific Coast® The Big Cozy® pillow.
The Allerrest® Pillow Cover
Waking up and finding out that you are a victim of morning allergies is not a good feeling at all. Allergens, such as dust mites, can cause such allergies. They live in your bedding accessories like your pillows. Once you get the Pacific Coast®AllerRest® pillow protectors, you will easily be able to deal with such bedding issues.
The collection consists of a 300 count thread fabric made up of 100% cotton which has the primary purpose of protecting your pillows from different allergens. The protection barrier does not eliminate the comfort factor and smoothness brought on by the pillow protector which is something you should consider having in your bedroom.
If protecting your pillows is the priority, the Pacific Coast® is all that you need. Our pillow covers last longer than other covers available in the market. There might be cheaper options for you to try on but they cannot provide the same level of protection and quality that you demand, and we provide. Give us a try and get ready to experience the best bedding products for your house.