As the warm, summery months approach you may find your inn or hotel getting more traffic than usual. April to August are the busiest months of travel and if you find yourself in a prime warm location, well it's time to start decking out your outdoor areas. Pools are obviously a prized amenity to have but even if your establishment doesn't carry a pool, the outdoor area is still important to keep up. Perhaps you have a nice veranda or outside patio with comfortable furniture to lounge in near a fountain. Whatever the case may be, having an area to soak up the warm weather is important to maintain.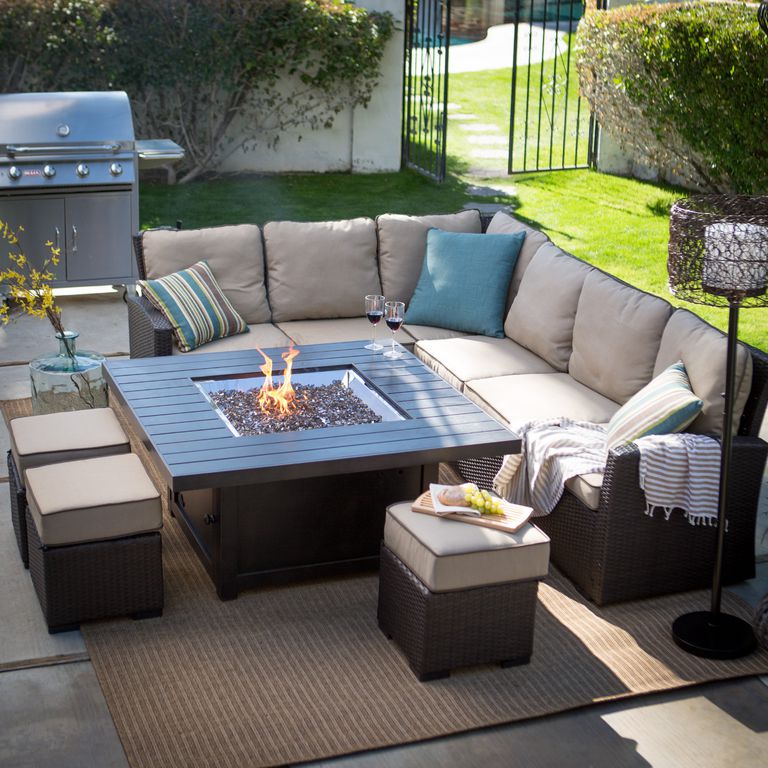 Having furniture that screams summer is the best place to start. Patio umbrellas that extend to shade at least two lounge chairs are great items to invest in. With a durable material these can lasts for summer seasons. Ideally the color of the umbrella should be neutral or match your hotel colors. Your hotel's name on the umbrella would be nice as well. Also keep in mind that even in the summer months there could be violent winds and rain so purchasing furniture with durable wood that is weather resistant means your furniture is more likely to last.
Be cognizant of your space, overcrowding a small outdoor patio area with chairs and stands and tables hardly gives your guest space to mingle and stroll along. If you are working with a smaller space, two or three round tables with umbrellas along with some chairs tugged around it will be better than multiple smaller tables with additional umbrella stands. Having a modern fire pit or cabana can make all the difference in a small outdoor area, it will make your guests forget there isn't a pool! However if you
happen have a large pool area, a good amount of lounge chairs framing the pool as well as additional tables for others to stand invites for more people
to join the scene.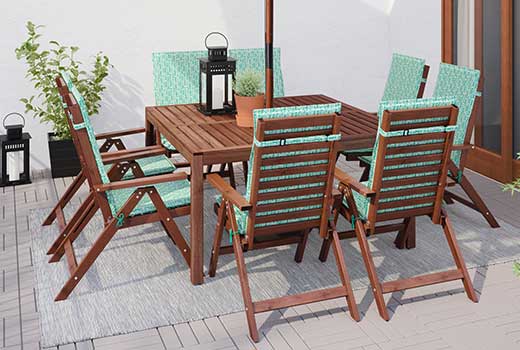 For your chairs and tables, select material that will not be too hot
to the touch when the sun is blazing. Although metal is a quick surface to clean, it isn't the most comfortable when sitting on after basking in the sun. Therefore, aim to get surfaces that don't fade and burn easily under the sun but are also stylish. There is a good amount of brands on the market that have ideal furniture fabric for the summer months.
Outdoor accessories are not relegated to just the typical chairs and table tops, but also towels, mats and summer items. Hotels4Humanity has an amazing collection of beach/pool towels including the fibertone towels from 1888 Mills. Beyond that we carry stripe pool towels, solids that reflect beach-like colors and much more!
Your inn may also consider handing out cool towels awaiting lodgers coming back in from the hot sun in the lobby or bowls of sunglasses outside for their convenience. Any small detail such as this can leave a lasting impression on patrons. And any chance to put your hotels logo on an item is an opportunity to spread word of your inn.
Have fun with decorating your outdoor space this season! After all it is summer and guests have come to relax and enjoy the pleasant climate. Make their stay comfortable by providing comfortable feeling, and pretty looking patio furniture. And it goes without saying but also be sure the maintenance of the pool is a main priority and it is fully functioning.
Thank you for reading this week's post at Hotels4Humaity.