Here at Hotels4Humanity, we host a variety of product lines that provide quality linens, accessories and supplies for all your hotelier needs. In this edition of our blog post we cast a limelight on one of our top product lines, WestPoint.
WestPoint has been in the home fashion industry since 1813, originally called Stevens. In their own words, they "have been leaders in the innovation, sale and (of course) fashion home of textiles, experimenting with new fabrics to meet our customer's ever-changing needs." And indeed, while their product line innately began with home adornment of quality linens, their product quickly expanded to super stores like Bed Bath and Beyond, Target, Macy's, Dillard's, and many more. They are also found on sites for hoteliers such as Hotels4Humanity and thus their products can be found in hotels, inns and bed and breakfasts around the country.
And what exactly makes WestPoint so great? Well the evidence speaks for itself.
They have an array of towels to choose from like these beautifully colored towels, or some nice white fluffy towels made from 100% ring spun cotton. A branch off from WestPoint Home that comes from the same brand and with all the luxury is the WestPoint Martex. Martex is the king of comforters, coverlets and all the bed spreads you can imagine. Many of the solid color comforters have a 130 thread count and are made of a blend of polyester and cotton. We are in love with WestPoint's Ecopure Comforter that is incredibly soft yet durable. As the name implies, it is made out of recyclable material and is 100% cotton. If patterns are more of your thing, there's about 18 different fabric choices offered. Martex is also environmentally friendly, meaning their comforters, coverlets, bed scarfs and bed spreads are made from polyester fiberfill from recycled bottles. Now you can buy great bedding at an affordable price, high quality and eco-friendly.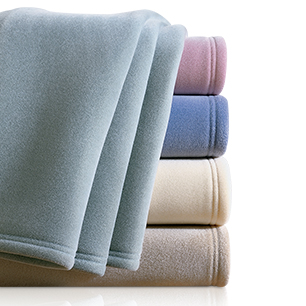 WestPoint is also your one stop shop for bed skirts, luxury duvet covers, towels, blankets, mattress covers, pillow shams and pillowcases. Their next generation of luxury towels will have your guests drying in bliss. They are made of 3 ply loop yarn and have amazing absorbency and resiliency to several washes. If purchased, they should be coupled with the Grand Patrician blanket, also 100% cotton with the texture of herringbone-weave construction and the feeling of being cocooned in a cloud.
For dressing your beds, a set of luxurious pillowcases, duvet covers and bed skirts are an excellent choice. The pillowcases are made of fabric that bounces back from stains and are a great return on our investment from its try fast technology which lowers energy costs. The duvet cover boasts the same qualities as the pillowcases and is a euro cover with flap. And you cannot go without a mattress pad that is waterproof, 100% waterproof in fact! This mattress cover is filled with polyester fiberfill and fits up to a 14" mattress depth.
Bed scarfs are still a signature item, and WestPoint has you covered with a wide assortment of solid colors and prints to match those bedspreads.
And of course, WestPoint goes beyond luxury and has products for utility. An emergency response kit is available on Hotels4Humanity site to combat the onset of the dreadful bedbugs. There are other important products to fight the pesky creatures that can be detrimental to one's business.
And so whether you are purchasing for your home, or are a hotelier WestPoint covers all of your basics. After being around the industry for over 200 years, it's safe to say they are well versed in the quality and value you look for in linens and products.
Be sure to check out upcoming product spotlights on Hotels4Humanity's blog posts. Happy shopping!