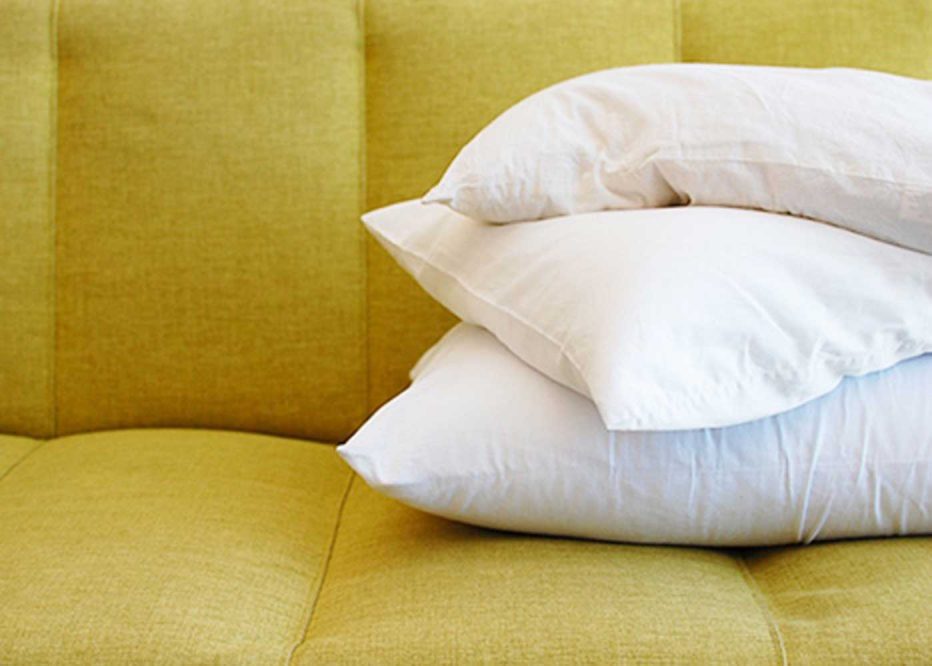 In this blog post we tackle the issue of how many pillows is too many pillows on a bed for you hoteliers and those who shop for hotel supplies.
There are so many different pillows out there: standard pillows, body pillows, neck pillows, square pillows, bolsters, shams, boudoirs, lumbar pillows, etc.
Which are the essential pillows you need for your guests? And how many does one person need anyway?
To begin, let's look at your standard pillows.
The average pillow can vary in material and filling but usually these have a rectangular shape and are in 20"x 26" in size. There are many different casings and fillings for a standard pillow, a couple of them are:
The classic fillings are feather pillows and down pillows (yes there is a difference). Feather pillows are soft and conform to the neck and head, creating a plush feeling. Some disclaimers with the feather pillow, for the humanitarians in the audience, these are actual feathers that were plucked from animals. Also for those who are prone to allergies, this pillow stuffing may agitate you. Feather pillows are also difficult to clean, since puncturing the outer material of the pillow can cause for feathers to run amuck.
Man-made pillows are exactly what you think, synthetic material usually made of polyester. The benefit of these pillows is that they are usually inexpensive and come in a variety of fabric colors and patterns. They can also be found at almost any store. The feel is less soft than your feather and down pillows but it caters well to those that don't care for a pillow that is too soft or too firm. It falls right in the middle. Although their life-span is less so than pillows made of other materials, they provide decent comfort at convenient prices and availability.
If you want the comfort of a feather and down pillow without the remorse that it comes from an animal or you suffer from allergies, then micro-bead and poly-bead pillows are for you. Also man-made, the material is chare synthetic pillows but the padding is broken up and given a gelatin like feel that molds to the neck and head. The material also gives resistance to your head, giving a more firm feeling than that of a feather pillow but not quite like memory foam.
This segues into the next type of wadding, memory foam pillows and shredded memory foam pillows. Memory foams were not as popular as they have been in recent years. Like memory foam beds, the pillows have been marketed as the best resting material for the neck, back and upper shoulders because of its molding capacity. Memory foam contours the grooves of one's head and holds firm while simultaneously giving way to the weight of your head. Many people adore this material because it is durable, and easy to wash. This type of material suits best the type of person that moves lightly during the night. Because of the fixed form, it cannot be easily distorted to fit a body curve or different sleeping positions and as such, those who move around in their sleep do not get much out of it.
Water pillows are rarely seen, but like the water bed they are out there for those who seek it. The fluidity of the pillow makes it even more customizable than the memory foam, and therefore gives your neck and head adequate support. It also acts as a natural cooling pillow. Depending on the type of water pillow one gets, you can adjust the water level to make the pillow more full or not. Of course, like the water bed there are issues with durability and the issue of creating a leak in your pillow.
Latex pillows are less common but hold a lot of promise in terms of comfort and style. There is a "bouncy" feeling to the pillow and therefore is does not mold but will hold shape no matter how you bend it. For this reason it is a durable material and easy to clean. Because it is latex, there is that accompanied latex smell when first purchased and usually is more expensive.
Although standard pillows are the staple in your array of pillows, there are many other pillows for different needs and accessory. Here's a breakdown:
Euro Shams , commonly known as just a sham and other pseudonyms is the taller pillow that stands behind the standard pillow against the headboard. They measure around 26"x26" in size. Hoteliers can find a great collection of shams by WestPoint at Hotels4Humanity. These are also the pillows to have a brand monogram on or an image. They add elegance and decoration to match your room and/or hotel color scheme.
Square pillows are the lesser cousin of the sham. They are smaller in size, varying in length around 18"x18". They're main function is decoration and not for utility. They come in a variety of colors and patterns for a bed or chair. On a bed they are positioned lazily across the standard pillows. At Hotels4Humanity, 1888 Mills has an assortment of accent pillows for your liking.
Bolster pillows are those tube shaped, cylinder type pillows. Bolsters come in handy for all types of circumstances. They are usually positioned in front of the standard pillows and at an angle from the throw pillows. Bolsters can be used for meditation and yoga practices, proving support under the knee. They also make for great arm and leg rests and can serve as bumpers to corral babies in. Of course, they are also a great decoration!
Boudoir pillows are another decorative pillow, smaller than the throw pillows but larger than the bolsters, measuring 12"x16" in size. Boudoir pillows are as decoratively pleasing as the square pillows. They can be placed on a chair, couch or bed for adornment. Boudoir pillows are placed at the forefront of the pillow arrangement, against the throw pillows.
The neck roll pillow is self-explanatory, smaller in size to the bolster it is good for comfort and design. The smaller pillow adds the final touch to the display of pillows mounted on a clean, crisp made bed. For the individual, it offers adequate support for reading or lounging about.
There is a range of ways one can go about decorating a bed, the one described above is the simplest yet refined route. Here you have a set of about 10 pillows; throw pillows can be used to your discretion. Some beds are decked with 5 while others have a modest two. Typically there are two shams, two standard pillows and two bolsters with neck roll and boudoir pillows being single. Alas, it does not matter if you want to make a pair of each different type of pillow; just keep in mind their order to avoid a cluster look.
We hope you've enjoyed this edition of pillows on Hotels4Humanity, be sure to visit our other posts for any of your hotelier questions.