While bath towels have been ubiquitous in households for hundreds of year, their journey from a rare luxury, to a plain, functional tool to colorful, ornate home decor has been anything but linear. Towels, like clothes, have fashions that come and go. One design has remained popular throughout the ups and downs of other trends: the iconic Blue Striped Towel.
The Blue Stripe has made its way into many locations around the world, from hotel bath towels to home decor. And for a good reason! When one sees the nautical Blue Stripe, one's bathing experience can evoke feelings of a warm day spent relaxing by the ocean. The Blue Striped Towel fits right into our moods when we travel, and when want to relax at home.
So how exactly did cotton bath towels and the classic Blue Stripes get their start?
The Journey of Cotton throughout History
Before towels became a vehicle for expressing personal style and taste, things like cotton towels and linens were hand-made using a long and labor-intensive process. Far from the everyday item they are today, cotton linens were once considered an expensive luxury that only the wealthy could afford.
Dating all the way back to 3,000 BC, farmers in India began growing and spinning cotton fibers into yarn to make textiles for clothes and linens. Because of its lightweight and breathable qualities, cotton made a great choice for the Indian climate. Long days working in the hot sun were infinitely more comfortable in lightweight cotton. Soon, the nearby Egyptians discovered that the fertile banks of the Nile River made for the perfect environment for growing cotton. Planting volume quickly escalated, growing into the world-famous specialty Egyptian Cotton that is still boasted as the most luxurious type of cotton today.
But despite its desirability, Cotton was still time-consuming and expensive to produce, making it cost-prohibitive to most households. It took several millennia, in 1973 specifically, for cotton to really became a household staple With Eli Whitney's invention of the cotton gin, which could produce cotton fibers at a much faster rate and with much less energy than hand spinning, the ability to mass produce cotton fabric propelled its popularity by making it affordable and readily available. Demand for cotton skyrocketed as people all over the world started to take note of the practicality of cotton and began using the fibers in a variety of household products. Even more innovation in weaving technology allowed cotton to become even more accessible to the general public.
Now that we know a bit more about the birth of a cotton bath towel, where does the Blue Stripe come in?
Breton Stripes: From Function to Fashion
Stripes on linens we popularized in 1858 as part of the French naval uniform worn by sailors. The iconic horizontal stripes weren't just a sporty design; they served a very important function in helping distinguish overboard sailors from the rolling waves, making it easier to rescue them. During this time, the French Navy hailed from Brittany (Bretagne, in French), a small northwest region in France surrounded by the Atlantic Ocean. This naval uniform sported but the sailors in the region became known as the "Breton" stripes, and are now commonly associated with all things French and Marine. The stripes became more than just a symbol of the navy, and soon you couldn't turn a corner in Bretagne without seeing these stripes.
But how did these stripes travel from a French seaside town to the global stage of fashion? You may not have guessed that it was on of the world's most famous and iconic fashion designers who popularized the horizontal stripe. After vacationing in Bretagne, Coco Chanel was inspired by the Breton stripes seen on the many local sailors and residents launched a nautical line of apparel in 1917. The line was a hit, leading to the adoption of the Breton stripe by high society women around the world.
The Breton stripe reached even higher popularity during the film era of the 1950s, when Hollywood leading ladies and gentlemen like Audrey Hepburn and James Dean began donning the simple but iconic pattern. This proved that the stripe could work for anyone's style, from high society, paired with an ascot and tulle skirt, to counter-culture anti-heroes, worn with leather and denim. Over the years, the Breton stripe has not lost its popularity in the world of fashion, and it remains an item found in many closets throughout the world today.
Nautical Is Still a Hot Trend
Everyone loves a good trip to the beach. Not just the sand and the waves of the shore itself, but the relaxing nature of beach towns and vacation homes. With the pleasantness and relaxation of this setting, it's no wonder that people want to bring it home. What's more, these themes are easy to design and coordinate to create a cohesive theme.
If you're looking to create your own seaside-themed bathroom, there are two directions you can go in: calm and relaxing beach themes, and bold energetic ship-inspired themes.
1. Wall Color Sets the Tone –
BEACH: To recreate the relaxing vibe of a beach home, choose a calming colors to conjure images of warm, breezy days, soft sand, and lapping waves. Creams, seafoam green, soft blues or sandy pinks are common colors that create a soothing atmosphere.
SHIP: If you're looking to invoke the energy and sharp organization of a ship deck, you can opt for a navy blue with crisp white accents, or bold, woody paneling. These bold colors will create a ship's hold atmosphere that you can then lighten up with other accessories.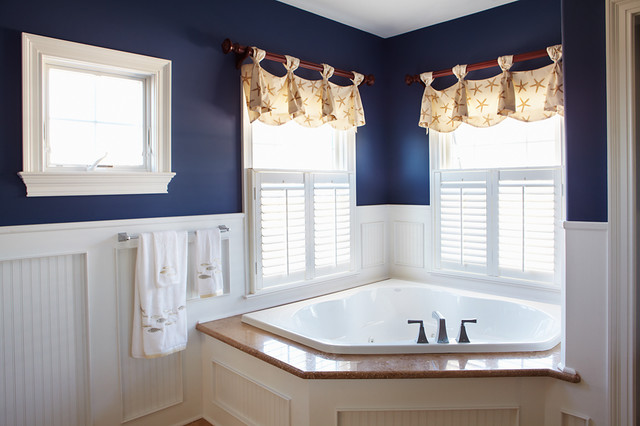 2. Display Furniture Inspired by Your Setting –
BEACH: If your bathroom has light-colored walls, offset the soft colors with furniture constructed of unfinished or distressed hardwoods to give it the natural, weather-worn feel of beach properties, which evoke a sense of quietly passing time.
SHIP: If you chose to go with bold, dark colors, offset them with white accents keep the space feeling clean and energized. White tiles, brass fixtures, and light colored wood will keep the space from feeling too dark.
3. Use Art to Set the Scene –
SHIP: If you have empty wall space in your bathroom, choose to add framed art graphics from antique ships and bold pictures of the sea. If you find black-and-white or sepia photography, make the images pop with clean white frames.
BEACH: Almost any beach scene, from serene dunes, to vintage mid-century aerial photos of umbrellas and beach chairs can instantly add a cheery note that brings you right back to the last time you stuck your toes in the sand. Frame these with light natural wood that matches furnishing (bonus points for using driftwood!).
4. Accessorize with Classic Nautical Symbols –
SHIP: Instantly recognizable symbols of ship-life include antique anchors, helm wheels, and ropes with sailors knots. Clean lines and symmetry with these accessories will mimic the organization of a ship deck.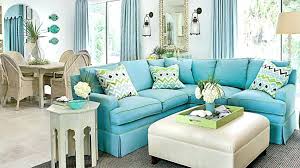 BEACH: Shells, seahorses, and starfish make great prints for furniture cushions and shower curtains. Sand Dollars, seashells, pieces of beach glass and driftwood can be displayed on coffee tables or window sills to bring 3D texture to your ocean theme. The more strewn about you can make these seem, the more you will evoke the carefree feeling of a windswept beach.
5. Bring on the Breton Stripe –
The best thing about this stripes is that it works for both themes since it was derived from official naval uniforms and popularized by residential beach-goers. Hang or stack the Blue Striped Towel in your bathroom. Add coordinating blue striped bath mats in front of the bath and sinks to keep your ship deck spic and span when stepping out of the shower. Displaying coordinated linens with the same design will unify your nautical theme.
Other Uses for Blue Striped Towels
Buying blue striped towels wholesale or in bulk means you can get a great price on a high-quality, multi-purpose towel. This is a great strategy because you never know when you'll need spare towels for guests visits, beach and pool trips, or other household uses. Here are a few ideas for other ways to use your 100% Cotton Blue Striped Towels outside of the bathroom:
Poolside
Poolside Comfort and Convenience - When lounging poolside, a soft, fluffy towel is needed to dry off after taking a dip as well as to add comfort the pool deck furniture. Keep a shelf of Blue Striped Towels stacked high near the pool. Whether you run a hotel pool, make frequent trips to the community pool, or enjoy hosting guests in your own backyard, keeping your supply of pool towels stocked will keep guests happy and comfortable. These towels will be used and laundered often, so make sure to opt for 100% cotton towels, which will remain soft and absorbent as well as durable. And of course, the classic white design will fit into any setting.
Matching Robes – A pool robe completes the feel of luxury when dipping in your own home pool and will lend a coordinated look with your pool towels. If you're good with a sewing machine, transform one of your spare large blue striped bath towels and make a matching pool robe for your children or the whole family.
Crafts and Activities
Picnic Blankets – Take advantage of beautiful weather and get the whole family together by having a nice summer picnic. You can create a unique and functional picnic blanket by sewing together several large blue striped towels. You could even take it a step further and create a matching napkin set by cutting a towel into smaller sections and hemming the edges. This blanket will keep the whole family together while making the clean-up process simple.
Throw Pillow Cases – Create a cohesive theme between your guest bedroom and bathroom by outfitting pillows in Blue Striped Towels sewn into pillow cases. These towels are not only soft and comfortable, they're easy to clean in the washing machine, just like any other towel.
Capes and Costumes – On rainy days when going to the pool is not an option, the Blue Striped Towel can still play an integral role in a fun-filled day. Transform your towel into a superhero cape for your kid so they can spend the day helping others. Who knows, maybe you can convince them their super-power is cleaning up the toy room or helping with the dishes!
Household Maintenance
Cleaning Rags – Buying towels at wholesale prices means you don't have to guard them like the crown jewels. You'll soon realize that since the absorbent material is durable, they make cleaning easier than using an old, cheap fabric, and it will be hard to go back to using anything else!
Dishtowels – Having 100% cotton towels can be a lifesaver for doing the dishes quickly and effectively due to the absorbent nature of the fabric, making them perfect to keep in the kitchen and in the bathroom and handtowels. The blue striped design will add a cohesive motif throughout your home.
Baby Bibs – Small kids often seem to get more food on themselves (or their parents!) than in their mouths. Keeping a towel-bib within reach will ensure you're prepared to fight any mess coming your way. Having spares is sometimes necessary when the first one is soaked through! But kids' products can be expensive since stores know that parents rely on them, so make your own well-designed ones by cutting them into small shapes and hemming the edges with ribbons.
With all of those additional uses for high-quality towels, you now know the magic of a classic Blue Striped Towel and you won't be able to stock your shelves with enough of them!
Wholesale Blue Striped Towels
Since you're going to want Blue Striped Towels in your life, head over to Hotels4Humanity, where we stock classic Blue Stripes and a wide variety of other towels and linens at unbeatable prices.